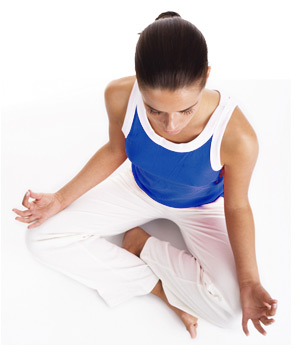 Yoga with Christel Gibbs
What is Yoga?
A series of bodywork, breathing and relaxation exercises to improve physical/mental harmony and maintain health. It comes from a Sanskrit word meaning "to unite" and is a positive way of life (not a religion). There are many different types and approaches, well-suited to modern times. I offer Hatha/Raja yoga for body, mind and feelings.
Who For?
Adults, children, pre- and post-natal, in groups, privately or at the workplace.
Aims
To unite body, mind and feelings through breath awareness,
posture work, relaxation and focus.

To recognise restrictive patterns, e.g. bad posture,
stress build-up etc. and know how to deal with them.

To recognise limitations and work on them in order
to reach full personal potential: physically,
mentally and emotionally.
Benefits
Physically:
pain relief, energizing, increased
flexibility and muscle tone, elimination
of body toxins, build up use of lung capacity,
improve balance, relaxation.

Mentally:
clearing mind, increased clarity, focus and concentration, better sleep.

Emotionally:
feeling positive, content, good sense of self confidence and control, at peace with self and world around, revitalized.
Practice
Using yoga as a tool in daily life/at work, routinely setting aside time to practice/reflect/ relax
Sessions
Sessions last ideally 60-90 minutes and cover;
Breath awareness, different breathing exercises and techniques,(15% of the session time)

Bodywork: elongating the spine, moving it in a forward-, backward-, side bend and twist; balance; inversion (60%)

Relaxation and withdrawal techniques, e.g.neuromuscular relaxation, concentration, visualisation (25%)
Pregnancy Yoga with Christel Gibbs is discontinued until further notice.

Location
On Tuesday evening & Wednesday morning Hatha/Raja yoga classes are held at the Grannes Grendahus, Grannesbakken, Sola (near Madla)
The Thursday evening Hatha/Raja yoga class is held at the British School, Gauselbakken 107, Gausel



"In minds crammed with thoughts, organs clogged with toxins, and bodies stiffened with neglect, there is just no space for anything else". ~Alison Rose Levy, Yoga Journal, Jan/Feb 2002